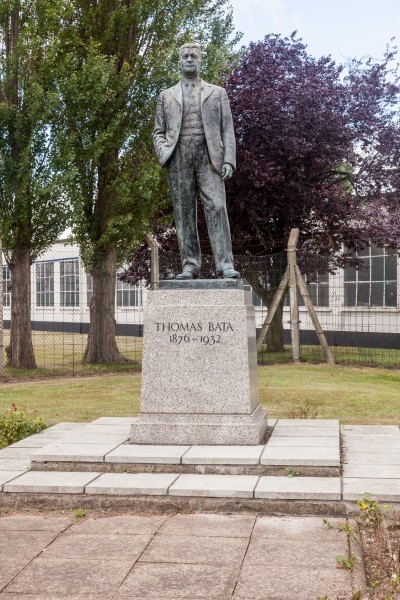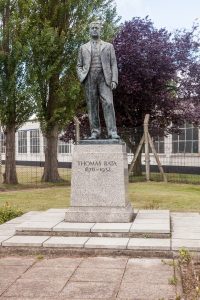 The historical development of East Tilbury is intricately woven with the story of the Bata Shoe Company.
Founded in 1984 by Czech industrialist Tomas Bata, it adapted American mass-production methods to traditional shoe making and from modest origins in Zlin, then part of the Austro-Hungarian Empire, grew during the 1930s to become one of the world's largest shoe manufacturers and retailers.
The Opening of a Bata shoe factory around the village of East Tilbury in 1933, along with associated housing and community infrastructure development, sparked the area's growth from small rural settlements into a thriving industrial community.
Tomas Bata had the vision and social conscience to provide both work and housing in a garden village, having already built factories and towns in many countries around the world by 1932.
The Buildings and layout at East Tilbury were based on the Bata factories in Zlin, now part of the Czech Republic. This Bata master plan laid the foundation for a self-sufficient community of factories and workers housing that included: a cinema, restaurants, sports facilities, a garage, farms, a grocer, a butcher and a post office.
It provided family houses with gardens for all married workers and dormitory 'hotels' for the single. This community attracted workers from across Europe as well as the more traditional shoe manufacturing Centre's in the Midlands.  At the height of its success, 6,000 resident workers lived in the East Tilbury development.
The Bata factory buildings are an example of the modernist style known as Constructivism and are arranged on a 6.15m grid. Tomas Bata utilised American building methods and encouraged his architects to develop a fast method of construction using either a steel or concrete frame with brick infill panels.  The layout and buildings were designed by Vladimir Karfik, who also worked with renowned architects Le Corbusier and frank Lloyd Wright.
The First Factory at East Tilbury was a single-storey building but it was not long before the larger buildings appeared. The multi-storey rectangular block factory you now see was constructed in 1933.
Rapidly changing manufacturing conditions in the 1990s and a fiercer trading environment in Britain led Bata to rationalise it's operation. It downsized production in East Tilbury and let go of assets including houses, library, shops, agricultural and development land before finally closing its operation in 2007.
Today the Bata factory buildings still dominate the settlement and the smaller buildings are visible for some distance, rising above the flat surrounding landscape. The status and importance of the Bata settlement as part of Britain's industrial buildings history was recognised by its designation as a conservation area in 1993 and the listing of Building 13.